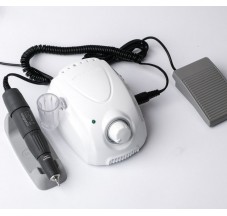 Milling machine
Milling cutters have become top equipment in the nail art industry. Such devices for manicure and pedicure greatly facilitate the work with nails, significantly improve the quality and safety of the procedure. The best milling cutters for processing nails and cuticles at a low price are presented on the website formulaprofi.pro Only originals from leading brands. The range includes professional and compact machines for home use. Model Selection Advice!

The main advantages of fraser nail machines:

- High power guarantees processing speed.
- Significant reduction in workload for the master.
- Versatility! Suitable for manicure, pedicure, extensions.
- Such a device allows you to work with any coatings.
- Compatibility with nozzles of any kind and from any materials.
- Long service life.

The milling cutter is easy to use even for beginners. Allows you to quickly and efficiently process nails, even in hard-to-reach places. Significantly simplifies the build-up and correction, is able to process the feet with high quality. Order a milling cutter for manicure and pedicure inexpensively. We have free shipping! Shipments all over the world!
Where could I buy Milling machine at a bargain price?
Welcome to online store - formulaprofi.pro In our online store you can buy
kodi professional online shop
at an affordable cost. Also, on our website you can buy
french rubber base komilfo
at good prices. Further add item to cart and indicate payment and shipping method. After, we will contact you для доставки to send Netherlands and other parts of the world.
Excellent quality - Milling machine
You can order from us -
komilfo gel polish
at good prices. Come back soon, we are always glad to see you.